Nidovac™ Vacuum Blood collection tube has compatibility with all the analyzer used in Haematology, Biochemistry, Immunology, Microbiology and other lab applications.
It's important that all Blood collection devices have better compatibility with all of the modern day Laboratory Analyzers. Nidovac™ vacuum Blood collection tube covers all major production parameters which contribute to better instrument compatibility.
Standard sized:
Nidovac™ Vacuum Blood collection tube PET tubes with standard dimensions of 13×75 mm and 13×100 mm which fits in all the autoloader and slots of Analyzers.
Rubber Stopper material:
The rubber stopper is very important for Vacuum Blood collection devices as its elasticity should be good and maintained through the collection, analysis and storage period. Nidovac™ Vacuum Blood collection devices use special 'Bromo-brutyl' rubber stopper.
Thermo-stable Gel:
The Gel material is given at most care so that it behaves at best when used with autoloader and probe aspiration, a special thermo-stable Gel material used in Nidovac™ Gel Vacuum tubes ensure that gel remains in solid state even after centrifugation and produce 'Zero' Gel globules.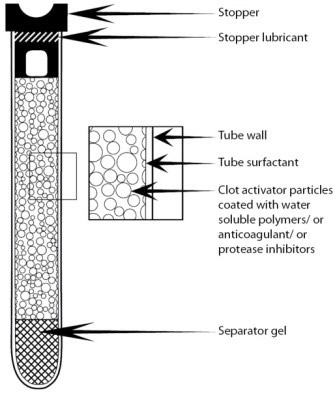 For better instrument compatibly Nidovac™ Vacuum Blood Collection Tubes have product design, anticoagulant concentration as per the latest CLSI guideline, H1-A5 / GP39-A6 Tubes and Additives for Venous and Capillary Blood Specimen Collection.
This standard contains requirements for the materials, manufacturing, and labeling of venous and capillary blood collection devices. A standard for global application developed through the Clinical and Laboratory Standards Institute consensus process.