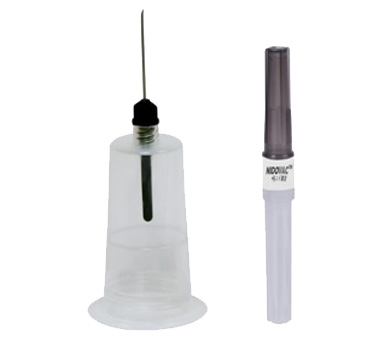 Product Details
Flash Hub needle:
Double ended multi-sampling needle, the entire needle is made of steel single steel cannula. The bevel (tip of the needle) is made with precision-guided cutting and needle is coated with silicon for smooth and nearly painless venipuncture.
The back end of the needle is covered with smooth protective rubber sleeve; this highly elastic rubber material ensures effortless tube insertion and subsequent tube interchange. This fluent tube switchover is important for smooth & painless blood collection.
Prominent flash hub is present at the tip of the needle. This flash hub provides the indication of proper needle placement within the vein, with blood flashing in the chamber as soon as the needle hit the venous flow.
Flash hub needles assist for single prick collection and building confidence for the Phlebotomist for vacuum blood collection.
Avoiding re-prick is important for patient comfort and customer satisfaction.
Available as:
21 G (Green colour code)
22 G (Black colour code)